Shinetech & ThoughtWorks Co-Host First Technical Seminar in Wuhan, China
Maggie Pan Jing
September 22, 2014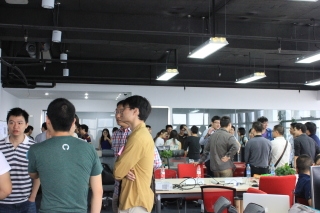 At Shinetech, we encourage self-development, collaboration and leadership among our employees. In order to foster that growth, we provide many educational opportunities like technical trainings to help our developers evolve their skills and expertise. This month, we teamed up with ThoughtWorks, a company that aims to revolutionize software design, creation and delivery, for our first co-hosted technical seminar.
The seminar was originally intended for the Shinetech and ThoughtWorks employees, but companies and professionals in the IT community in Wuhan were excited about what the training was aiming to achieve, and about 70 IT professionals outside of the two hosts attended. Technical experts from ThoughtWorks and Shinetech gave presentations and shared their insights on a variety of industry topics, like software programming languages and frameworks, such as MVC, Scala and Ruby on Rails. Attendees from the event were excited about the insight they learned at the seminar, and were motivated to bring its learnings back to their everyday work.
Thank you to all attendees for attending, and to ThoughtWorks for hosting the event with us!
Check out some pictures from the seminar below:
Yang Bo, a manager at Shinetech Wuhan, gave a brief introduction of Shinetech, explaining our vision to be the most suitable company for developers' career development and the best place for developers to work.
Chen Zhang, a senior Ruby engineer at Shinetech Wuhan, spoke about Ruby on Rails MVC Framework.
Gao Shigang, a senior Ruby engineer at Shinetech Wuhan, shared his best practices for Ruby on Rails development.